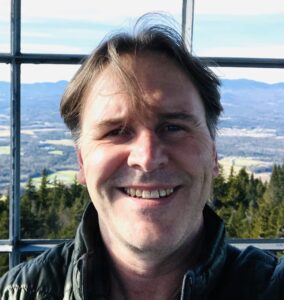 My name is Jim Kelley. Prior to becoming principal at Hunt, I was the Interim Principal for a year and Assistant Principal for four years. I taught 7th/8th grade science at Edmunds Middle School for ten years. My experience in schools spans nearly two decades in a wide variety of roles. I've been a paraeducator, behavioral interventionist, high school chemistry and advanced biology teacher, and a middle school math and science teacher. These experiences give me a deep understanding and appreciation for the different ways staff work with and support student learning. In the 1990's I took a hiatus from education to be the Executive Director of the Tibetan Resettlement Project in Burlington. Through this experience I gained a deep appreciation for the challenges refugees face as they begin a new life in a vastly different culture.
I am passionate about restorative practices, anti-racist work, equity and deeper learning. I am committed to making Hunt a place where all students fell welcome and celebrated. I'm committed to developing better student/adult partnerships and better school/family partnerships. I want students to experience learning that is engaging and feels meaningful to them. The pandemic has dealt a challenging blow these past years to some of this work, but I am committed to guiding our school with its talented teachers and staff beyond this storm to realize our full potential.
I earned a M.A. from St. Michael's College in School Leadership and a B.A. from Middlebury College in Religion, with a special focus on Tibetan Buddhism and a minor in Organic Chemistry. I live in Burlington with my wife Yangchen and our dog Chipper. The three of us love long walks, hiking and camping. I have two children. Tenzin is a senior at Temple University and Sonam is a junior at Northeastern University. Both of them attended Burlington schools k-12. I treasure my time with my children when they are home for vacations.