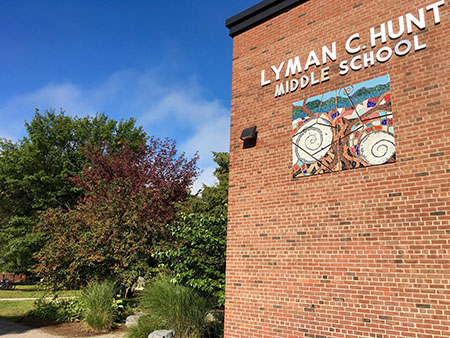 The HMS Principal Hiring Committee has announced three finalists for the HMS principalship. They are Nikki Ellis, who currently serves as Assistant Principal at Edmunds Middle School; Richard Gowers, Principal at School for Independent Learners in Los Altos, California; and Jim Kelley, current HMS Interim Principal.
Complete bios for all candidates can be found below. The three will participate in hybrid student, staff, and community forums on Wednesday, May 4th. Then the Hiring Committee will review feedback from the forums and recommend one or two candidates to be interviewed by Superintendent Flanagan who will make a final recommendation to the board.
For questions about the process, please email: principalsearch (at) bsdvt (dot) org
Community Forum
Wednesday, May 4th
6:30-8 PM
In-person in the HMS library and Via Zoom.
Feedback Form
Thank you for participating in our Staff and Community Forums. Please fill out this form to provide feedback.
Meet the Candidates
Nikki Ellis
My name is Nikki Ellis (they/them), and I am a proud transgender non-binary school leader in Burlington School District!  This is my 8th year in the field of education.  
Prior to entering the field of education, I had the opportunity to live in Peru for about a year and half. This was a foundational experience that developed the values I still carry today as a school leader.
Living in a new culture and learning through collectivism pushed me to see beyond my own schema of the world. It also helped me to develop my bilingualism. Today, I work to honor the values of reciprocity, trust, mutual understanding, and sense of belonging that I developed while living abroad.
I started my career in education as a high school ELL/ELA teacher in Des Moines, Iowa, before transitioning into the role of Equity Coach with Des Moines Public Schools. In that role, I had the opportunity to be trained and coached by The New York Leadership Academy and to implement an equity audit and anti-racism coaching for school administrators.
My wife and I then moved to the East coast to be closer to her family. This led me to Chelsea High School in Massachusetts, where I became an Assistant Principal.
In my administrator role in Chelsea, I had the opportunity to work with a local organization called ROCA. They mentor youth who are at risk for incarceration or who have previously been incarcerated. ROCA trained me as a restorative practitioner. We worked collaboratively to identify and resolve harm and conflict within the school community. This work deeply impacted how I see the role of a school leader.
After a few years in the Boston area, my wife and I decided to move to a city with a culture and pace more similar to the Midwest, which is what led us to Burlington! I am currently the Assistant Principal at Edmunds Middle School. In my time at EMS, I have worked to implement a peer mediator program. Students are being trained to resolve harm and conflict in the community. I have absolutely fallen in love with Burlington and plan to stay here long term!
Outside of school, I moonlight as a sous chef for a local catering company and run a Queer and BIPOC-friendly surf collective called The Lavender Lineup that helps queer and BIPOC folx to access surfing on the New England coast. When I'm not keeping busy with these projects, my wife and I love spending time hiking with our three dogs!
The most essential tenant of my leadership is an unwavering pursuit of collectively building a community that sees, listens to, and understands all members. My favorite way to connect with kids is by asking them to teach me about their passions and interests!
Richard Gowers
My name is Richard Gowers and I am currently Principal at School for Independent Learners (SIL) in Los Altos, California. Born in the UK, my family migrated to Australia when I was eight; I was the second in my family to graduate from high school and the first to graduate from college, where I received a PhD in History. I taught history at colleges in Australia, New Zealand before moving to California in 2004, where I continued to teach at the college level. I joined SIL as a Humanities instructor in 2007 and welcomed the chance to work in a school that fostered close ties between students and teachers. I have always been committed to the principle that all students can succeed and, with flexible systems of instructional and curricula design, schools can foster a culture of high achievement for all.
Since succeeding to the role of Principal in 2012, I have worked with colleagues to strengthen and expand the school's program and ensure that everyone — students, parents, teachers, and administrators — collaborates to facilitate student success. Through my time as Principal, I have developed and led a program across all the multifaceted roles expected of a school leader. Among them: I have overseen the development of curriculum across departments and ensured that differentiated assessments could be used for a variety of students including those on IEPs; I helped to create and oversee a Student Government, which facilitated the community and service activism of students and encouraged an inclusive school culture; and I have hired and retained a dedicated faculty providing feedback on teaching practices and supporting their professional development plans. As a product of — and a beneficiary of — public education, I am invested in contributing my passion for teaching and learning in that setting, with a vision of ensuring its success by providing a safe, supportive, learning community that centers equity for all students. 
Outside of my role as Principal, I still research and write — recently contributing entries on Juneteenth and Emancipation Day to The World of Jim Crow America. And I have worked to develop my understanding of school systems and processes through serving on school accreditation committees as a WASC Chair. But the close-knit environment of a school community is where I retain my focus. When I have free time, you'll probably find me watching, playing, or reading about soccer. Or, I may be found reading about other things, cooking, exercising, battling it out with crosswords, or spending time with my partner and our pets.
Jim Kelley  
My name is Jim Kelley and I have been the Interim Principal at Hunt Middle School since October. Prior to this experience, I was the Assistant Principal at Hunt for the last four years and before that I taught 7th/8th grade science at Edmunds Middle School for ten years. My experience in schools spans nearly two decades in a wide variety of roles.  I've been a paraeducator, behavioral interventionist, high school chemistry and advanced biology teacher, and a middle school math and science teacher. These experiences give me a deep understanding and appreciation for the different ways staff work with and support student learning. In the 1990's I took a hiatus from education to be the Executive Director of the Tibetan Resettlement Project in Burlington. Through this experience I gained a deep appreciation for the challenges refugees face as they begin a new life in a vastly different culture.
I am passionate about restorative practices, anti-racist work, equity, and deeper learning. I am committed to making Hunt a place where all students feel welcome and celebrated. I'm committed to developing better student/adult partnerships and better school/family partnerships. I want students to experience learning that is engaging and feels meaningful to them. The pandemic has dealt a challenging blow these past years to some of this work, but I am committed to guiding our school with its talented teachers and staff beyond this storm to realize our full potential. 
I earned a Master of Education degree from St. Michael's College in School Leadership and a B.A. from Middlebury College in Religion, with a special focus on Tibetan Buddhism and a minor in Organic Chemistry. I live in Burlington with my wife Yangchen and our dog Chipper. The three of us love long walks, hiking and camping. I have two children. Tenzin is a junior at Temple University and Sonam is a sophomore at Northeastern University. Both of them attended Burlington schools K-12. I treasure time with my children when they are home for vacations.